Columbia Wetlands Outpost Interpretive Farm Tour and Dock Walk
Experience the lifestyle of a working farm and enjoy the wetlands from our dock network.
Explore the Columbia Wetlands Outpost farm during your stay by doing an interpretive farm tour through the field of organic hops, over to the apple orchard, and wind your way up to the Bee hives. Come to our seasonal farm door and try our delicious farm products with all fresh produce grown directly from our farm.

Find out how researchers have discovered how hops are being used to save Honey Bees. Experience and learn about the charm of working farm life with our friendly farm tour or explore our interpretative farm trail at your leisurely pace.
Walk around the farm.
Go to the water fall or on the board walk in the wetlands.
Play in the tree park and visit the fairy house.
Pick a pumpkin in the pumpkin patch.
Bring your picnic. No food or beverages on site.

Wreath Class - Please contact us to book.
Make a beautiful Hops wreath at the Red Barn.
If you choose to do 2 wreaths, 10$ will go to the food bank.
Farm Tour included.
Additional wreaths can be added for $25 at checkout.
Maximum group size is 2 per booking. If you have more people please make additional bookings for your other group members.
Click here
if you would like any more information regarding the Columbia Wetlands Outpost Farm Tour

Dock Walks
For those preferring to explore the Columbia Wetlands Outpost on foot, a dock walk offers the ideal journey of discovery.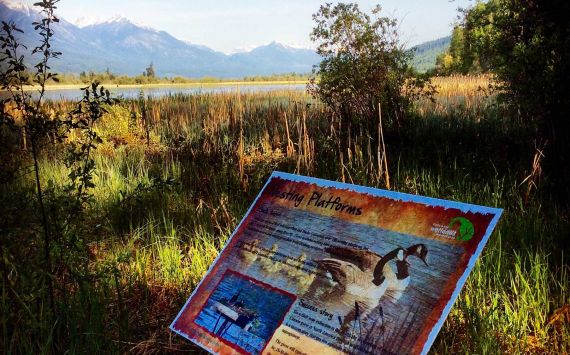 Follow shady woodland paths through the riverside forest and along our interpretive trails. Along the way you can find fascinating trail signs created in cooperation with local historians, geologists and wildlife experts who share our passion for this unique landscape. Over a dozen of these information markers will help to point out and explain the wonders of the Columbia Wetlands, a Ramsar Wetland of international stature and importance.
As you traverse the masterfully crafted 65 metre suspension bridge to the Captain's dock and boat house, we invite you to kick back and relax on comfortable deck chairs amidst the beauty and serenity of the Columbia Wetlands. There is nothing finer!

Pre-Book a Farm Tour and Dock Walk
Searching Availability...